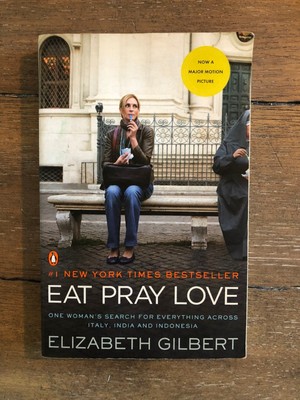 Good morning
So for the year 2020, one of my goals was to read more books.
I decided to do a reading challenge for the month of September. Since I've been reading yoga and learning about finding balance in my life, the first book I'm reading is "Eat. Pray. Love" by Elizabeth Gilbert. Yes, I know they came out with the movie, so some people are like Gabby, you can just watch it on Netflix can't you?
I can, but my goal for 2020 is to get back into the healthy habit of reading physical books. Most of my year has been spent behind multiple screens. After work, I take an hour break, but it's consumed by the screen of my iPad playing games, or my television watching Netflix. Don't get me wrong, I enjoy streaming, but I'm learning that I need to feed my brain good things. For me, that means less screen time, and more creativity time.
Now another question you may want to ask is Gabby, are you going to read the book for the month or are you going to add more books until September is over? The answer at the moment, is I want to add more books for September, but I'm a slow reader so that may change. And If I only read one book for the month of September, then that's ok. I'll make that a goal to read and finish one book for one month until I'm able to read more than one book.
We have four months left of 2020 (I say four because we're just getting started with September so I don't want to confuse anyone). I have four months to improve on creating good habits, healthy habits that are going to stick with me throughout the years.
Well, hope everyone is off to a great start on this Labor Day! Enjoy, relax, sit back, and be in the moment.
Until next time…
❤️